Planning a Successful Family RV Trip for Football and Tailgating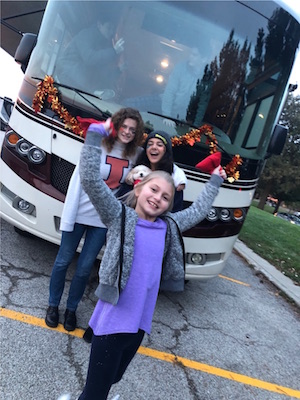 RVing Fun!
When planning an RV trip with your family, you'll save a lot of money and gain a lot of relaxation time on the road when you plan ahead. Find out where you will be parking the RV overnight. Get details about whether it is a grass lot or pavement. It can be challenging to pull an RV out of a grass lot after rain and this is why we suggest always choosing a paved lot.

Consider having your RV delivered and set up at your desired spot, so that if you have a group, everyone can meet there. This is a very convenient option especially since you will likely need a car to pick up things during your trip.
Every trip will likely require at least 1 shopping trip along the way – which can be both functional and fun!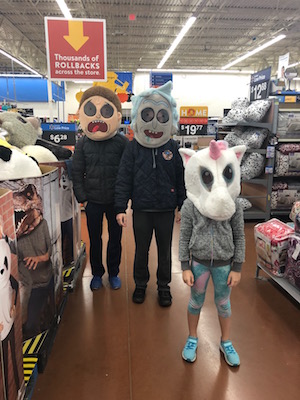 Every RV Trip Requires a Stop at Walmart!
However, if you have packed the things you really need, you'll save money not have to buy things like sleeping bags and fire pits on the road. Also, you won't have to find and run to the store while everyone else is sleeping or relaxing.
Just like Santa, make a list and check (twice) that everything has actually been packed. On our last trip, bedding including pillows was on the list, but somehow pillows didn't make it… Us parents ended up improvising while the kids picked out cute, yet obnoxious sequined pillows to sleep on. (They look great in their bedrooms now, though!) Kids got pillows and I got RVing slippers, which are like a souvenir that remind me of the great time we had when I wear them at home.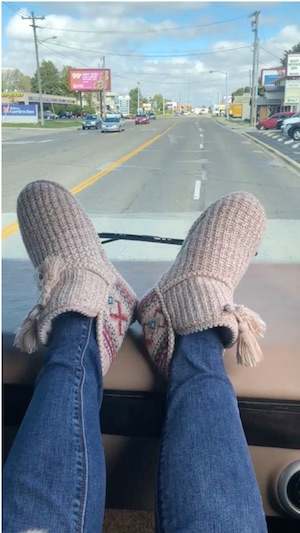 RVing Slippers
Meal Planning for Your RV Trip



If you're in charge of feeding everyone, you'll want to prepare and pack as much as possible to make life easier for yourself. Here are a few food planning and recipe ideas from my last family RVing trip. We went to homecoming at University of Illinois, went to the football game and tailgated, which drove the theme for the menu. Plus, it was cold, so I had to plan for a lot of warming foods.

I made a large amount (2 gallon sized zip lock bags full) of delicious chili and made sure we had all of the fixings - sour cream, cheese and chives. But one can only eat so much chili. To provide some variety, I pre-baked potatoes which could easily be microwaved and those who wanted, could make amazing loaded backed potatoes with the chili and all of the fixings.

Then, I had enough cheese, sour cream and chives to make quick Quesadillas. Just add salsa and guacamole, which I suggest having on hand for snacking with chips anyway.

Since we had chips, I pre-made spinach and artichoke dip which could simply be headed to serve. If your family is like mine, everyone will want to eat when they're hungry, which often times isn't all together. Having chili, baked potatoes, and dips (hot and cold) accessible and easy to pop in a bowl to microwave makes life a lot easier and keeps everyone happy.

When renting an RV, unless the owner gives you an inventory list of everything you will have, you may have to wing it. If you don't know FOR SURE that there will be a coffee maker available to use, bring your own. If you have an old Mr. Coffee drip machine, it should fit in a paper grocery bag and since it's not heavy, it's not so bad to transport. And if your RV owner host does provide a coffee maker, make sure you know what kind so that you can have coffee filters or anything else you need to get it made. The last thing I need is a morning of making breakfast for 5 without coffee…

If you're not a coffee snob, you can always bring instant coffee, microwave water and violà you're ready to face the day!

A few more tips for a more enjoyable trip:



Don't feel guilty for buying pre-made vegetable and fruit trays. Any way to get everyone to eat some fruit and veggies on what typically is an unhealthy food weekend is worth it!

Bring make up remover wipes, even if you don't wear make-up. It's nice to have some small luxuries while "roughing it" and a nice smelling toilette to clean your face and hands can do the trick!

If everyone is going in and out of the RV nonstop, bring a cordless vacuum for spot cleaning up.

If you're tailgating at a football game, it's a good idea to plan ahead for something fun to celebrate even if your team loses. On our trip, we celebrated our dog's birthday with cake and a cookie bone for the dog after our team lost.

Even though your kids might think it's cheesy before the trip, any night on your RV trip they will appreciate and love s'mores. Don't forget to pack long skewers with wooden handles for easy marshmallow roasting!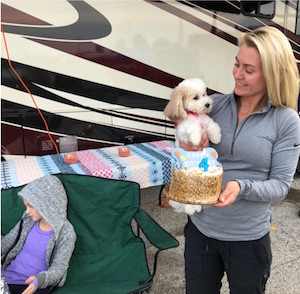 Celebrating Our Dog Iggy's Birthday!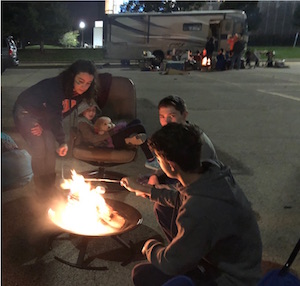 Making S'mores, Of Course!
Are you ready to RVnGO?



Recipes:



This is my go-to chili recipe. The only thing I do a little different is that I substitute ¼ of the ground beef for ground pork.

Here is a great recipe for baked potatoes, with a lot of additional ideas for fixings.

After the potatoes were baked, I wrapped them in parchment lined aluminum foil. Since you can't put aluminum foil in the microwave, remove it before heating, but leave the parchment.

My favorite Spinach and Artichoke Dip Recipe can be found here.

After it was cooked and cooled, I put it in a gallon sized zip lock bag for easy storage in the refrigerator. I don't recommend bringing a lot of heavy dishes with when RVing. Storing in a zip lock bag works great and is disposable/recyclable.

Cheese Quesadillas don't need to be over-complicated. Here's a simple and straight-forward recipe that works! The only thing I do in addition is add guacamole and chives for something green.

Please share your favorite recipes and RV trip tips below! Enjoy!