What Hosts Need to Know

Overview
RVnGO Protection Plans are available to Hosts who list RVs on the RVnGO Platform ("Platform") and Guests who rent a motorhome or trailer (i.e. an "RV") from a Host through our platform. While Guests can add additional protection add-ons like roadside assistance to any rental's Protection Plan, all Protection Plans include (i) up to $1,000,000 in externally arranged liability insurance, and (ii) up to $200,000 in property damage protection to the rented RV via a Damage Protection contract that sets out the Hosts level of contractual reimbursement from RVnGO for eligible exterior damage and, in turn, the Guest's degree of responsibility to pay for said damage Damage (a "Damage Protection contract").
RVnGO Protection Plans cover travel throughout the United States and Canada only. Protection begins when the rental is checked in and end when the rental is checked out, thus we require that Hosts hold valid registration and regular insurance that at least meets the minimum statutory requirements in the state the RV is located / registered, so that their RV is insured when it is not being rented. Vehicles which lack regular insurance are not eligible for rental on RVnGO's platform and do not qualify for any Protection Plan. Additionally, RVnGO cannot provide Protection for RVs located/registered in the State of New York (although if you rent outside New York State and drive into New York State you are covered). We are working on a solution but as of now, if you are a host with an RV located in New York State, please contact us and we may be able arrange alternative protection for you and processing on our platform. For more information, contact us directly at protection@rvngo.com.
In order for the rental vehicle and the Guest/Driver renting it to be eligible for any Protection Plan, the following criteria must be met:
i. the responsible Driver must meet the qualification criteria in 'Qualifying the Driver' below;
ii. the RV meets the eligibility criteria in the 'Qualifying Your RV' section below;
iii. the damage is eligible for protection and not excluded under the 'Limitations on Protection' section below;
iv. the damage occurred during the Protection Plan's rental period, the damaged RV is the same RV listed on the Plan / reservation and the VINs listed match the unit's current registration.
Protection Plan Rates, Reimbursement Deposits and Fees
Our damage protection plans cover travel throughout the United States (including New York) and Canada. Travel to Mexico is prohibited and will void a Guest's contractual limitation under any Protection Plan. Protection only applies to transactions booked through the RVnGO platform and extends to the Guest (or the Primary Driver, if they are different than the Guest) and any additional drivers listed on the reservation on the applicable reservation page on our platform, provided the meet the Driver Qualification criteria below. The Guest pays the nightly Protection Plan rates of any plan chosen when they rent a Host's RV, and this is automatically added to the reservation amount – Protection Plan rates range $70 a day for the largest Class A motor homes to $25 a day for some trailers.
Qualifying Your RV

To Qualify your RV for rentals on our Platform and Protection plans on those rentals, we require – for every rental – that (i) your RV is also insured for non-rental periods with whatever RV insurance Host's deem appropriate, so long as it complies with the minimum statutory requirements imposed by the State the vehicle is registered in, (ii) your RV is properly licensed with current registration, and (iii) your RV is kept in mechanically sound working order.
Unfortunately, at this time, we cannot offer Protection Plans for RVs located in the State of New York. We are working on a solution but for now you will have to arrange your own property damage protection and auto-liability insurance for you and your Guest. Note that our insurance does cover travel in the State of New York if your RV is based outside of New York.
Qualifying the Driver



As part of the reservation booking process, Guests are required to upload a picture of a valid Driver's License belonging to them to RVnGO (valid for driving in the United States, Canada, Western Europe, the U.K., Australia, and New Zealand). Once uploaded, Guests must complete the Driver's License verification process through Stripe, which they can access from their RVnGO.com Reservation page, so that their ID is marked as 'Verified' on that page.
In addition, the following driver's are excluded from Protection (as well as from using our platform and/or renting your RV through it, per our Terms of Service):
Drivers who in the past three years (prior to rental date) have been convicted of a driving while intoxicated (DWI) violation or a driving under the influence (DWI) violation,

Drivers who in the last three years (prior to rental date) have been guilty of more than one of the following:
Manslaughter or negligent homicide,

Felony involving a motor vehicle,

Racing or engaged in a speed contest,

Hit and run,

Reckless driving,

License suspended for points,

Driving while license suspended,

Fleeing or eluding arrest,

Having multiple driver's licenses that have not been uploaded and disclosed to RVnGO, or Being at fault for an accident.
Limitations on Protection
For all rentals that meet the above criteria, RVnGO Protection includes up to $1,000,000 in Auto-Liability Coverage provided by a US-licensed third-party auto liability carrier and up to $200,000 in property damage protection for damage to your rented RV, or the RV's cash value (depreciated replacement value), whichever is lower.
That being said, certain limitations on what type of damage is reimbursable apply, including:
Pre-existing damage

Pre-existing damage – Under the Rules of our Guest Protection Plans, Guests are not responsible for pre-existing damage present on the Host's RV at the time their rental began (see the following section "Pre-existing damage and Pre-trip & Damage Photos"). To avoid disputes over whether any damage was pre-existing, Hosts must make sure they document any pre-existing damage to the RVs interior or exterior by submitting photographs of all four sides of the vehicle, all bumpers, its undercarriage and the roof (including photos showing the outer surface of the roof and any fixtures protruding from the roof such as an air conditioner) and the RVs interior (including all appliances and fixtures) prior to leaving on your trip. Photos should be taken regardless of if damage is present. Such photos will be important to RVnGOs determination of whether you may limit your out-of-pocket expenses for damage. As such, for any areas where pre-existing damage does exist, it is very important that you document the damage by filling in the 'Check-in List' in the Check-In section of your RVnGO.com Reservation page and photograph the damage thoroughly. Photographs can be uploaded to the 'Check-In Images' section of your RVnGO.com Reservation page, or where you are unable to upload photos due to network connectivity or technical issues you should save those photos for future reference in the event your Host submits a claim for damages at the conclusion of your rental. For more information on How to Check In, including photos of any pre-existing damage, please see here.

NOTE: photos of any pre-existing damage must be taken on or before the check-in date, and in any event cannot be older than 48 hours before the check-in date. Photos taken after check-in are not admissible as pre-existing damage photos. Photos must be original, untampered photos and cannot be screenshots.

Any water or mold damage, and any damage caused by extreme weather events,

Any interior damage,

Normal Wear and Tear, freezing, mechanical or electrical breakdown,

Flat Tires and wheels (including bases), unless they are damaged in a covered accident or are stolen,

Chipped or cracked Windshields and windows




Wearing app

arel, personal effects or other personal property carried in the RV,

Damage from nuclear radiation or contamination,




Any damage where the RV was rented to attend a music festival, including during transportation to and from, and during attendance,

Any roof damage or damage to roof mounted accessories, unless an exception is made by RVnGO (which may occur from time to time)

Any cleaning costs before or after a rental unless these costs arise from an eligible peril (ex. accident, or fire),

Any downtime, loss of use or any other business related loss or expense,

Any intentional damage or vandalism caused to a rental vehicle by a Guest or affiliates such as travel partners of the Guests

Reckless use –

any time a Guest / Driver engages in Reckless Use of the rented RV, the damage will generally remain eligible for reimbursement however RVnGO may charge the Guest a Reckless Use Fee of up to $16,500 – $18,500 depending on the Vehicle/Plan type to cover the damage as a precondition to your reimbursement; as a result, when damage via Reckless Use occurs it may result in an extended claim processing timeline: Reckless Use includes the following:

any time a driver backs up a vehicle,
any time a driver parks a vehicle,
any time a driver drives, or pulls into, through, under or out of structures with overhead awnings (incl. signs, gas stations, camping spots or other areas with overhanging trees or branches) without using a spotter

whenever a driver leaves a canopy/awning open during windy weather or drives, at any speed, with the canopy/awning still open.

Other limitations may apply, see the Terms of Service for a definitive list.

Pre-existing Damage and Pre-Trip & Damage Photos

PRE-EXISTING DAMAGE IS NOT ELIGIBLE FOR REIMBURSEMENT UNDER ANY PROTECTION PLAN, UNDER ANY CIRCUMSTANCES, AND HOSTS MUST DOCUMENT THE STATE OF THEIR VEHICLE PRIOR TO IT DEPARTING ON EACH RENTAL TO ESTABLISH A LACK OF PRE-EXISTING DAMAGE. TO DO SO, HOSTS MUST TAKE PHOTOS OF ALL FOUR SIDES OF THE VEHICLES EXTERIOR, ALL BUMPERS, THE UNDERCARRIAGE AND THE ROOF (INCLUDING PHOTOS SHOWING THE OUTER SURFACE OF THE ROOF AND ANY ACCESSORIES PROTRUDING FROM THE ROOF) (THE "PRE-TRIP PHOTOS"). ADDITIONALLY, HOSTS MUST THOROUGHLY PHOTOGRAPH THE RV'S INTERIOR AND ALL APPLIANCES OR FIXTURES INSIDE OF IT.
PRE-TRIP PHOTO GUIDELINES

To be considered valid pre-trip photos capable of supporting a Protection Plan claim for damages to the rented RV, pre-trip photos must meet the following guidelines:
Photos must be taken on

or before the check-in date (i.e. date your rental departs and coverage begins), and

in any event cannot be older than 48 hours before the check-in date

.



All pre-trip photos provided to RVnGO by you must be original, unmodified photos and cannot be screenshots.


Host's must produce pre-trip photos with date and time EXIF fields embedded – all smartphone cameras comply with this rule, but if you are unsure or are using a camera not on a smartphone, Hosts can comply with this rule by using a sticky note to prove the photo capture date. This note should contain, in writing, (i) the trips RVnGO Reservation Number, and (ii) the current date (i.e. the date the photo was taken) (a "Reservation Note") and be affixed to the RV's exterior so that its visible in your photos. Hosts could create a reservation note looking something like the image on the left, and place it on their RV when photographing it such as is displayed on the right:


DAMAGE PHOTO GUIDELINES

When your Guest's trip ends and your RV is returned, you must photograph all eligible damage within 3 business days (72 business hours) of the return date and submit it to RVnGO via the 'File Protection Plan Request' button on your Reservation page, which looks like this:


BESIDES THE 72 HOUR PHOTO CAPTURE AND CLAIM SUBMISSION RULES, THE SAME RULES RELATING TO EXIF DATA AND THE NEED TO SUBMIT ORIGINAL, UNMODIFIED PHOTOS AS ARE IN THE PRE-TRIP PHOTO GUIDELINES APPLY.
Host Check-in Steps & Obligations

We cannot be there when you check-in and check-out your RV, so for our Protection Plan coverage to apply and any requests for reimbursement from a given rental to be processed smoothly, please do the following at check-in:
1. Confirm and verify the driver's license(s) of the Guest and all additional drivers they list on the real. To do so, please do the following for both the Guest and any additional drivers listed on the rental:
a. confirm the name on their license matches the reservation,
b. confirm the picture has a likeness to the person standing before you
c. confirm they are at least 25 years old as of the day the rental departs
d. confirm their license is marked as 'Verified' on the Reservation page, so as to look like this: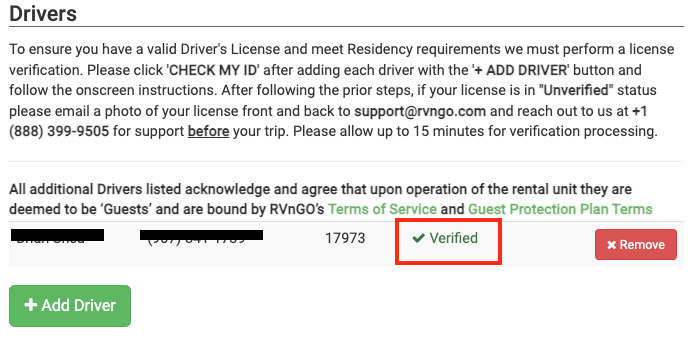 2. Take a photo/scan of the front and back of the Drivers Licenses of all drivers' listed on the rental and hold onto it in case an issue arises during the rental
3. Take properly formatted pre-trip photos (see guidelines above) and upload these to the 'Check-in section' of your reservation page, by clicking the 'Add Image' button shown here: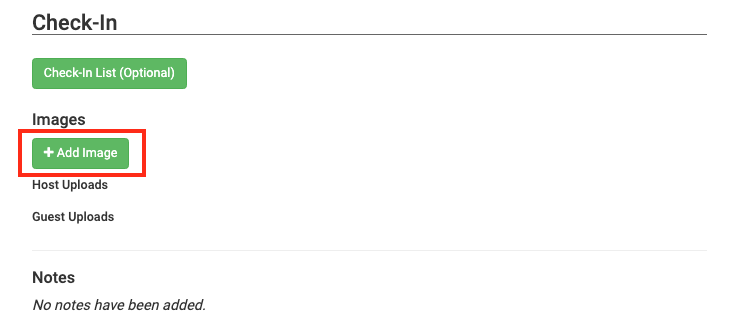 Note: if you are unable to upload pre-trip photos at the time of check-in due to technological or connectivity issues, please save the original copies on your phone in case any issues arise during your rental and you submit a reimbursement request upon the Guest's return.
Additionally, for each new rental and vehicle listed, we need you to do the following:
Accurately describe your RV, with accurate pictures and correct VIN (Vehicle Identification Number). Protection will only extend to the Vehicle whose VIN is provided in the RVnGO.com listing which has been rented for a given reservation.

Make every Guest aware of the total height of their rental vehicle, including both the distance from the road to the roof, as well as the height of any peripheral accessories that may protrude beyond the roof (such as air conditioning units)

.

Remind your Guest at Check-In of your expectations for use, cleaning, and maintenance of the unit and whether these expectations will impact your attempt to withhold their Security Deposit, if applicable.

Take pre-trip photos which meet the Pre-Trip Photo Guidelines above of all four sides of the vehicle's exterior, all bumpers, the undercarriage, and the roof (including photos showing the outer surface of the roof and any fixtures protruding from the roof such as an air conditioner) prior to the departure of EVERY rental.

Take damage photos of any eligible exterior damage which occurs during a rental which are (i) dated no longer than 72 hours after the reservation end date, and (ii) are of the same vehicle (Make, Model, Year & VIN) listed in your Protection Plan and Reservation.
Not intentionally breach your Damage Contract rules -

RVnGO deems as an intentional breach of your Damage Contract with RVnGO the following: (i) any attempt to have pre-existing damage reimbursed, unless such damage is explicitly identified in advance and RVnGO is made aware during the initial reimbursement request process and can be separated from damage that occurred during your Protection Plan period, (ii) any attempt to have damages reimbursed for a vehicle other than the one whose VIN is listed on your reservation/policy, (iii) repeat attempts to reimburse damage which is excluded per the Limitations on Protection list above, (iv) any attempt to reimburse damages on a vehicle which is not qualified per the Qualifying your RV criteria above, and (v) all other attempts to cover damages which occurred in circumvention of these rules. Where a host engages in any of the above activities, RVnGO reserves the right to deny a Host's contractual reimbursement and/or remove them from the platform.

On check-in, check the driver's license of the Guest (and any additional drivers) and list any pre-existing damage on the check-in form

On check-in you go through the check-in process online, PROTECTION PLANS WILL ONLY COME INTO FORCE AND BE IN EFFECT ONCE THE VEHICLE IS CHECKED IN AND THE REQUIRED FIELDS ARE COMPLETED.




On check-out list and document (upload photos to your RVnGO.com Reservation page) of any new damage caused during the rental (other than wear and tear and breakdown),

IF YOU HAVE A PROTECTION PLAN REIMBURSEMENT REQUEST, MAKE THAT REQUEST PROMPTLY FOLLOWING THE INSTRUCTION AND FORMS ON THE CHECK-OUT FORM, AND DO SO WITHIN THREE (3) BUSINESS DAYS OF THE GUEST RETURNING THE VEHICLE.
CLAIMS SUBMITTED UNDER A PROTECTION PLAN MORE THAN THREE (3) BUSINESS DAYS AFTER THE END OF THE PLAN'S RESERVATION MAY NOT BE ELIGIBLE FOR REIMBURSEMENT AND RVNGO RESERVES THE RIGHT TO REJECT ANY DAMAGE REIMBURSEMENT REQUEST MADE OUTSIDE OF THIS WINDOW.
These guidelines are subject to the Damage Contract and Protection Plan policies within our Terms of Service (available here). These Terms of Service
constitute the sole and entire agreement between you and RVnGO regarding the Website and supersede all prior and contemporaneous understandings, agreements, representations, and warranties, both written and oral, regarding the Website.
These Terms and policies are paramount and if there is any discrepancy, they shall govern and be definitive. For more information, please contact us at
protection@rvngo.com
.